Time and Place
6th Floor Auditorium, The Wilson Center
Follow the conversation
#Roadmap50x50
#LeadershipIndex
Event Details
Discover new tools to achieve gender parity in public service leadership around the world in a groundbreaking new report from the Women in Public Service Project.
---
Where are women in governments around the world? How much power do they hold? How did they get to their positions of leadership? The Global Women's Leadership Initiative Index is a first-of-its-kind project that harnesses the the power of data to answer these three key questions, providing a multi-dimensional snapshot of women's public service leadership in 75 countries.
On May 15, 2018, the Women in Public Service Project released the first annual findings from the Leadership Index and hear from global thought leaders from across sectors on how to make practical use of these insights in the quest for gender parity.
---
Speakers & Key Quotes
Event Moderator
Dana Bash
Chief Political Correspondent, CNN
"This is special: to have a woman heading this amazing center, the Woodrow Wilson Center; to have this amazing study, which is really remarkable – slightly depressing, but remarkable – because we need to know the stats and the data."
Opening Remarks
The Honorable Jane Harman
Director, President and CEO, Wilson Center
"In an era of fake news, this is the real deal."

"How can we expect the best foreign policy decisions, or any policy decisions for that matter, with only half the population represented at the table?"

"We have complete data measuring women's leadership across 75 countries – more coming soon – and today we are making public the first report – that's this report that you all need to have and memorize – measuring the pathways to women's leadership."
Opening Conversation: Today's Women Leaders and the 50×50 Vision
Michèle Flournoy
Co-Founder & Managing Partner, WestExec
"You have to be absolutely excellent, over prepared, so there is no question why you're there. And you have to also be willing to stand up for your voice. When someone interrupts the woman, you have to say, "Excuse me, I'd like to finish."

"Diverse leadership teams make better decisions and oversee higher performing organizations."
Carla Hayden
Librarian of Congress
"You have to be very concrete and intentional and specific about what you want. And that's something as a female in positions, you hesitate, or you might think in mentoring young women about not being afraid to be definite and secure in what you do."

"It's really empowering women to be themselves, to be authentic, and not be so upset to show weakness."

"When you think about the pay and equity with education, and what we pay teachers, our most important group really when you think about the future and what they are paid, part of that has to do with it is a feminized profession. And so, we're working on that, in general, with all of those traditionally feminized professions."
Roadmap to 50×50: Power and Parity in Women's Leadership
Gwen K. Young
Director, Global Women's Leadership Initiative and Women in Public Service Project
"This Index is the first of its kind, because it's the first to measure women's leadership across all five sectors of government. So not just women presidents, and the women in parliament and legislature, but women in public administration, the judiciary, [and] national security."

"We know with data, not only can you measure, but you can innovate, you can drive change, and you can find solutions."

"We often don't think about public administration … which implements the laws, which in some countries is the safer or 'better' place for women to work … but also that controls a lot of the GDP and what goes on in a country. So this is incredibly important."

"Not only do you have to break the ceilings, but you have to break the walls. You have to get women at every decision-making table."

"This has been a global effort built off partnerships and platforms … part of what we want to do is continue to build this global platform of people that are committed to women's leadership in government, committed to women's leadership across all sectors, and figure out exactly what it's going to take to move the needle."
Lightning Talks: Pathways to Parity
Nadia Younes
Chief Innovation Officer, EDGE Strategy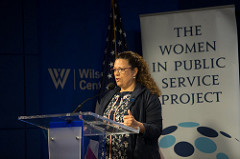 "We have to get rid of some of the myths. The myth of meritocracy, the myth that it's going to take 217 years, the myth that this has to be slow."
Ayesha Molino
Senior Vice President for Federal Government Affairs, MGM Resorts International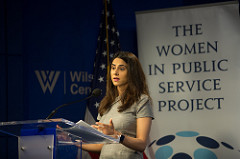 "What does this mean to advance gender parity, particularly in the public sector? What we have found is that three things are essential. First, you have to have a top-down commitment that gender diversity inclusion, including the willingness to devote meaningful resources to the cause."
Stephanie Gore
Director, Government, People & Change, KPMG LLP
"I think there are some programs that other companies can use and model, like KPMG, the other big fours as well, that will help retain women and give them options to opt-in, and remain in, instead of opting-out of the workforce."
Fireside Chat: Policies for Parity
H.E. Ambassador Lars Gert Lose
Ambassador of Denmark to the United States
"We have to look at the basic structures in our society that would actually enable women to get out there and work."

"It is important to keep this on this agenda for countries that think they do well. Denmark has done well for many years, but we still have a lot of work to do."

"Involving more men in gender equality, the 'HeForShe' thinking, that is an important cross-cutting issue on this agenda."
H.E. Ambassador Jennifer Loten
Ambassador of Canada to the OAS
"The idea of culture, the culture of equality … how do you create and promote that? Some of the best policies in the world will only work if you have ways to ensure there is a penetration of understanding."

"An important culture change that I think we have to make…We have to stop thinking about our kids as a barrier or an anchor… they are a source of inspiration and energy, they are the reason that we go to work and the reason we come home at the end of the day. It should not be something that detracts from our vision of ourselves as leaders."

"I think we need have to stop asking ourselves whether or not [the 50×50 vision is attainable] and just get on with it."
Lighting Talks: Power and True Parity
Patrick Keuleers
Director for Governance and Peacebuilding, UNDP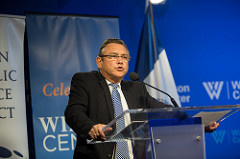 "Gender parity in public administration, in my view, is important for three main reasons. First, barriers to women's advancement in public service undermine the fundamental principles of equality opportunity and social justice in society. Second, without a critical mass of women in public administration, a government is not tapping into the full potential of a countries capacity, workforce and creativity. Third, the public administration affects the lives of millions of people, half of who—if not more—are women."

"Research shows that gender parity in policy-making and decision-making enhances the effectiveness and responsiveness of administrative agencies."

"We know that more women engaging in the peace processes leads to the sustainability of the peace agreements."
Katja Iversen
CEO, Women Deliver
"Girls and women are powerhouses, and they are critical in powering progress for everybody – especially when they are in leadership positions."

"If we really want to see the change that we need to see, we need to shift investments, we need to shift the narrative, and we need to get that data and stories into play."

"Gender equality is in the water, we just need to get people to drink that water."
Closing Remarks: The Look Ahead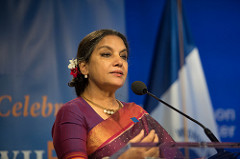 Shabana Azmi
Actress, Social Activist, and WPSP Global Ambassador
"I believe that men and women are different … not better, not worse, but different. And that difference needs to be included in the global dialogue that is taking place."

"Often times, education reinforces gender divides. It is very important that when you talk about education, you talk about gender-just education."
---
Global Events
The #Roadmap50x50 conversation is a global one – and to drive the conversation across borders, key stakeholders around the world will host events highlighting the report and putting the findings and data into contexts specific to their own country or policy area of focus. These Power and Parity Global Events will take place around the world from May 15 – 22, 2018.
ALBANIA
Gratë në Shërbim Publik: A Power and Parity Global Event
Hosted by WPS Albania
May 18, 2018 | 5:00pm
Hotel Iliria
Tirana, Albania
Follow on Twitter: @WPSAlbania
Join WPS Albania for a screening of the event and conversation about data driving gender parity. WPS Albania CEO Mimoza Hajdarmataj will lead a discussion on women's representation in policy and political leadership in Albania with Mrs. Dhurata Cupi, Member of the Albanian Parliament and Head of Alliance of Women MPs and Mr. Afrim Krasniqi, Political Scientist, Researcher, and Executive Director of the Institute for Political Study in Albania.
UNITED KINGDOM
Women's Representation in Public Service Globally: The Facts
Hosted by Apolitical
May 18, 2018 | 8:30am
Ministry of Justice
London, UK
Follow on Twitter: @apoliticalco
Apolitical is hosting a screening of the summary findings of the first-ever "50×50 Report" from the Women in Public Service Project. Come find out what the data says about gender in the public service and join a discussion led by Odette Chalaby, lead reporter on gender for Apolitical, around barriers and opportunities to accelerate progress toward gender parity in political leadership.
UNITED STATES
Power and Parity: Women's Political Leadership
Hosted with the US National Committee for UN Women, San Francisco Bay Area Chapter
June 18, 2018
Cambria Gallery
San Francisco, CA, USA
Follow on Twitter: @UN_Women_SF
Join the US National Committee for UN Women San Francisco Bay Area Chapter and WPSP to celebrate the power of women's political leadership as we strive to achieve the 50×50 vision of women holding 50% of policy and political leadership positions by the year 2050. The event will feature a keynote address from Betty Yee, California State Controller and a panel conversation with Christine Pelosi, Chair of the California Democratic Party Women's Caucus and Kristin Hayden, Chief Partnership Officer for Ignite, moderated by Debbie Mesloh, President of the San Francisco Commission on the Status of Women.