Time and Place
6th Floor, The Wilson Center
Follow the conversation
#ParityPerspectives
Event Details
With the launch of a feminist foreign policy in 2014, Sweden has taken national progress to the international stage by integrating gender considerations into all aspects of foreign policy decision-making. At the forefront of this effort in the United States is Ambassador Karin Olofsdotter, the first woman to represent Sweden as Ambassador to the United States.
The Women in Public Service Project welcomed Ambassador Olofsdotter to the Wilson Center for a conversation on driving progress toward gender parity through diplomacy.
WPSP Director Gwen K. Young led a moderated discussion and Q&A with Ambassador Olofsdotter to explore solutions that span across sectors and borders.
Key Quotes
Gwen K. Young
Director, Women in Public Service Project
 

"I think the interesting thing about that culture is that it has to be both at home and in the workplace. Where in the workplace it would be looking suspicious if the man actually does not take that time. Right, so his time is valued just as much as the woman."

"In our newly released Global Women's Leadership Index, Sweden scored 3.5 out of 5. We're calling it a 'balanced parity country,' where women can not only rise to the top in government leadership positions, but rise across sectors and portfolios of government."
H.E. Ambassador Karin Olofsdotter
Ambassador of Sweden to the United States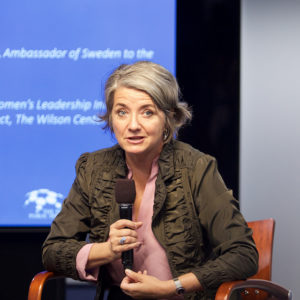 "The Swedish government is the first government in the world [that] declared itself a feminist government in 2014. It is a feminist government with a feminist foreign policy. And the idea behind this is, of course, that women and men should have the same power to shape society and their own lives. I think this was a bit ridiculed in the beginning… but I think the laughing has stopped."

"Women also need to be pushed a bit more. We need to be a bit more emboldened. Go for the positions. The head of personnel at the ministry said if we put out an advertisement for a job and you need five criteria, the woman says, 'Oh I only have four. I can't apply' and the guy looked at it from a distance and said, 'That's me. I fit two. I'm going for it."

"It's really important that we … stress equality between men and women and show why it is important… We have to show the results that we can achieve."

"It's important to show role models to show that women, of course, can do just as good as men. It should never matter if you are a man or a woman at your job. If you can do it, you can do it."

"I think women need to be a bit more bold. Be bold."
Hosted in partnership with